ABOUT A.C. CRISPIN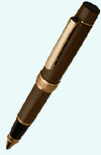 A Message from Ann:

Hi, I'm Ann Crispin, aka A.C. Crispin. I'm a full-time writer of science fiction and fantasy, and the only thing I really don't like writing about is myself. (I'm camera-shy, too!)

Welcome to my official Web site! C'mon in and set a spell. In upcoming months, I'll have more writing excerpts, articles, and other items of interest about me, and writing in general.

At the moment, I'm busy working on a number of important new projects, but I invite you to keep checking back often for special Web previews and updates.

Enjoy, and keep reading!
-- Ann Crispin

A.C.Crispin is the former Vice-President of the Science Fiction and Fantasy Writers of America, and the founder and Chair of SFWA's Committee on Writing Scams. She's the author of more than twenty novels, including seven New York Times bestsellers.

For more about A.C.Cripsin:
• Author Biography for background, photos and interests
• Affiliations for credits, memberships and organization affiliations
• Awards & Honors for special recognitions bestowed up A.C.Crispin
• Courses for information on seminars, panels, workshops, and classes